About Us

 
Free Music Public Domain was created in 2014 with the goal of being the best free royalty free music library with the most unique and original song catalog.
Our MP3's are perfect for adding to your Youtube videos  and you can use this site for your personal or commercial use.
Are you looking for free stock music? Instrumental music? Background music? Need an original high quality music score?
FreeMusicPublicDomain.com is a music library for the public. Whether you're looking for Royalty Free or Public Domain music, we offer songs that are safe, legal and free.
We have two licensing choices:
Creative Commons Music (free) is free copyright music and can be used just like free unlicensed music or non-copyrighted music in that you simply add a small credit to the end of your video (generated when you choose a song).
Our Standard License requires a small fee ($25) and is great for commercial use where you want licensing but may not want to add attribution or credits to your project (such as elevator music, phone music, radio commercial, etc.)
Freemusicpublicdomain.com is your open source music site. Now it's easy to find high quality duty free music with unique and original songs. Our music is album quality and was professionally recorded and mixed in a state of the art studio. Yes, it's pod safe music and fair use music. It's "musica royalty free" or music copyright free.
The music categories on this site such as alternative rock, hard rock, progressive rock, instrumental music, classical music (symphonic or orchestral), smooth jazz,  country music, female vocal music, new age music, comedy music , children's songs and blues songs feature songs perfect for video background music, soundtracks, elevator music, documentary music, dramatic music, trailer music, demo reel music and musical scores.
Here's some background on the key players and artists on this site-
Rick Costello
Rick is the former Vice President of Covert Music Operations at the Exzel Music Co. and the primary songwriter and guitarist of Lost European – the greatest band that never was.
Rick is also the guitarist/songwriter of Angelwing, a no-hit wonder band that made it to #1 on the new age charts virtually without selling any records!
Rick has also created and released 2 other CDs- 'The Lemming Shepherds', a children's CD-ROM storybook that promotes individual thinking and the compilation disc, 'The Job Shopper Album' an eclectic mix of standard and original songs for the Contract Engineer on the road. Three of Rick's original songs were used in the feature movie 'Jimi', a biography of Jimi Hendrix, and Rick also had a cameo appearance in the film. The film, with a respectable budget of over $4 million dollars went nowhere and to this day cannot be found online or in any video stores.
Rick has been playing guitar since the age of twelve and has performed with legendary guitarist Richie Havens and has also appeared on ABC's "In Concert". If you watch the episode carefully, you can see most or Rick's left arm appearing from the shadows for at least 3 seconds, maybe more!  He recently retired from playing guitar because in his own words, "My elbow hurts!" He has recently created a few new websites.  www.cloudscapescreensaver.com  is a site that features beautiful animated screensavers and live wallpapers for computer and smartphones. These animated gems are filmed from exotic locations which conveniently make his vacations a great tax write-off!
www.bizarrewordbazaar.com is a site dedicated to the art of wordplay and features some very funny comics, photos, features and probably the greatest band name archive list in the world.
Rick recently created a new royalty free music library dedicated to Epic and Cinematic music. Epic-Royalty-Free-Music.com
Angelwing
Angelwing is simply put "Female Empowerment put to Music". The driving force behind this incredible music is 2 angels in human form…
Reenie Varga is an aspiring singer/songwriter living in Los Angeles as well as an accomplished painter and actress and is the main vocal force behind Angelwing. She frequently performs in the LA area with the Reenie Varga Trio.
Reenie has appeared in films and has lent her voice and likeness to some very successful video games as well. Reenie attended the Tyler school of Art at Temple University and her oil painting 'the Nymph' graces the back cover of the Angelwing CD.
Erin Shawn Hawkins is a classically trained singer who got her start at the age of four. She took up the Cello at the ripe age of nine and has been playing ever since. She won the Utah state competition with her high school three years running and is a graduate of the University of Utah majoring in Fine Arts. Erin has her own solo album which was released in 2003.
Check out this Cloudscapescreensaver video featuring Angelwing's song "What a beautiful Sunset!"
Lost European
"The greatest band that never was" put out 2 incredible albums of memorable songs that nobody remembers…until now! Their legacy lives on! Lost European has a British sound mixing alternative with progressive rock . Led by front man and part time pirate Roy Lund, a man who could sing you under the table and where he usually ended up by the end of the night due to his love of bourbon and women (usually of the female persuasion).
Morgan Greig, a founding member, was the band's original keyboardist until one day he buggered off to Seattle where he is now a virtual recluse (except to his many friends and fans) Morgan has a wonderful knack for 'that old time music' and never met a song that he couldn't beat to death.
Gary Strausbaugh is the band's keyboardist and Producer. He has been on many top selling albums of great artists, most of whom are dead or nearly so. Gary is a bonafide music genius who will begrudgingly produce your music for a nominal fee.
Frank Danna is the masterful lead guitarist whose unique solos add so much to the Lost European sound.  He is truly a guitar virtuoso.
Matt Hennager is another masterful lead guitarist who toured with Lost European and also contributed to many of the songs on our albums as well as concert recordings.
Jimmy Mack is the ultimate bass player and toured with Lost European in the early 90's. In the 1970's and early 80's Jimmy performed and recorded with  Sly & The Family Stone (1974-76) and for four years toured nationally and internationally with Edwin Starr & Starrchild (1978-1982)
Randy Walker toured with Lost European and also joined the band for a set of concerts with the legendary Richie Havens. Randy is an amazing drummer and has his own production company in Scottsdale, Arizona.
See the Lost European live at the Roxy with Richie Havens
The Lemming Shepherds
The Lemming Shepherds is the brain fart of Rick Costello. Secluded for long periods of time, highly delusional and suffering from serious isolation, he feverishly composed the soundtrack and penned the story of two renegade lemmings who refused to join the crowd. Along with Los Angeles artist Dave Shelton (of National Lampoon fame) and Music Producer Gary Strausbaugh, they created an interactive Storybook CD-Rom for children. A few rare copies of the actual book and CD are still in existence and may be found in garage sales or on Ebay. There's even a few Chinese knock-offs floating around out there.
See the Lemming Shepherds animated storybook "Symphony for the Census"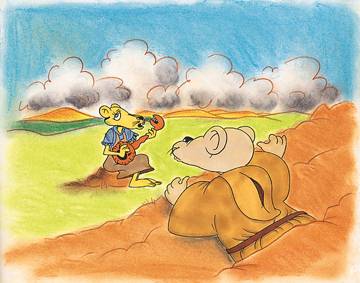 Bill Shostak
Geoff Hurley
Steve Blakeley
The best royalty-free music Free Music Public Domain